Meet The For Pet's Sake Veterinary Center Team
Meet our caring and compassionate staff.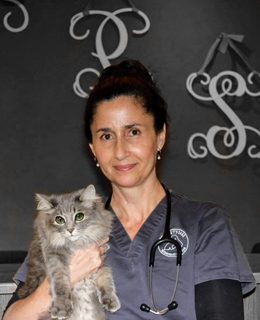 Dr. Kyra Haring
Veterinarian

Dr. Kyra Haring, Veterinarian
Dr. Kyra Haring has been a practicing Veterinarian since 1997. She graduated from New York University with a B.A. in Anthropology and Wagner College with her B.S. prior to continuing on for her DVM degree from the University of Florida in 1997. She lives her lifelong dream of helping animals as a veterinarian each and everyday. Dr. Haring spends all of her free time with her children, Cameron, Alec, Madeleine & Natalie, her husband Bob and all of her numerous pets. She has a special passion for helping the animals which are voiceless and most in need. She has been assisting Washington County with the prosecution of animal abuse cases for the past several years. She testified on behalf of "Chubby", the dog that was duct-taped and left on the side of the road in Argyle in 2012. Dr. Haring will continue to make the lives of animals better wherever and whenever possible. Dr. Haring has had her private practice since 2006. She opened FPS to grow her relationship with both her patients and clients. There is nothing more rewarding to her than to educate her clients, knowing that this will enrich the lives of her patients.  She thoroughly enjoys seeing her patients through all stages of their lives and finds no better reward than to keep them well and to find them comfort and help during their last stages of life.  Providing her patients with compassionate and comprehensive care is her most important goal.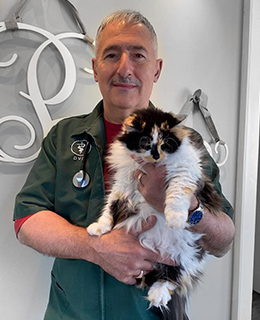 Dr. Greg Bayan
Veterinarian

Dr. Greg Bayan, Veterinarian
Dr. Greg Bayan joined For Pet's Sake Veterinary Center staff in August of 2020. He has been an emergency veterinarian for 28 years of his 38 years in the profession, the past 10 years working at the Northway Animal Emergency Clinic and 19 years at the Capital District Animal Emergency Clinic.
Dr. Bayan was born and raised in New Brunswick, New Jersey and graduated from Rutgers University in New Brunswick in 1977.  He went on to the New York State College of Veterinary Medicine at Cornell University, graduating in 1982.
After practicing for 2 years in New Jersey, his love for upstate New York brought him to Glens Falls in 1984, and he has enjoyed living in the area, at the edge of the beautiful Adirondack Mountains ever since.  He has always been an animal and nature lover.
Dr. Bayan is proud and happy to be a member of the For Pet's Sake team as he is dedicated to compassionate, professional and common sense veterinary medicine to meet each patient's needs and their family's expectations.  He and his wife Laurie live in South Glens Falls with their fur babies, Benihana the Shih Tzu and Millie the cat.  He enjoys hiking, kayaking and cross country skiing, gardening and making wildlife woodcarving, paintings and photographs.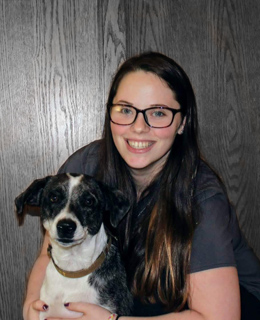 Tabitha
Licensed Veterinary Technician

Tabitha Herrmann, Licensed Veterinary Technician
My name is Tabitha Herrmann. I graduated from SUNY Canton in May of 2018 and started working at For Pet's Sake shortly after.  As long as I can remember I have wanted to work with animals and working as a veterinary technician is the perfect way. I love that I get to be around animals everyday and have a hand in helping the ones that need it. When I am not at work I love spending time with my puppy Rambo and my two cats, Milo and Oliver; they always seem to know how to make me smile no matter what.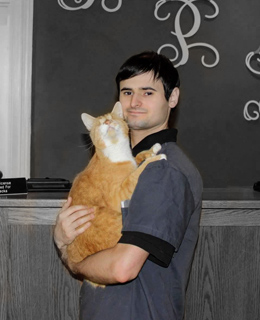 Matthew
Licensed Veterinary Technician

Matthew Brown, Licensed Veterinary Technician
My name is Matthew Brown. I graduated from SUNY canton in 2019 and began working at For Pets Sake the summer of the same year. Growing up on a farm, my entire life I have wanted to work with animals. My cousin felt the same and chose to become a veterinary technician, and after hearing about her career I chose to do the same. Working with animals as well as their owners has been one of the most wonderful experiences of my life and I can honestly say that the care and compassion I have seen since beginning my career is truly heartwarming. When not working I like to visit my grandparents farm and spend time with the 2 dogs 3 cats, 4 horses and many chickens that shaped my love for animals.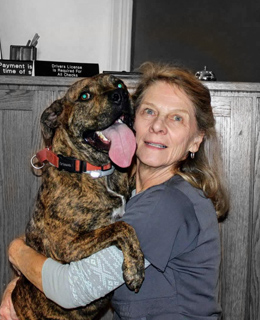 Donna
Client Relations Specialist

Donna Frawley, Client Relations Specialist
Donna has been with us for several years. Her passion is and always will be her love for all animals! Over the years, she has worked with rescue groups and has volunteered at several animal shelters but when her canine family grew to six large dogs, she decided it was time to get a real job to support her addiction. She has a special love for Doberman Pinschers, especially those in need of being rescued! She currently shares her life with 1 dog, 5 cats, 3 horses and a very compassionate and patient husband. She loves spending her free time with her animals and has attempted to go part-time for many years. However, her dedication to For Pet's Sake and the animals in need that she gets to meet daily has kept her work hours nearly full time!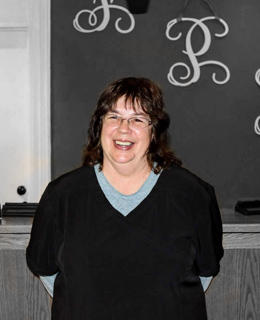 Deb, Bookkeeper
Bio coming soon!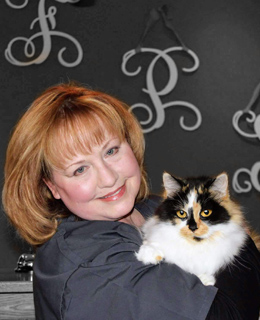 Leslie
Client Relations Specialist

Leslie, Client Relations Specialist
I've always loved animals and my goal was to become a veterinarian – until that fateful 'Career Day' in high school when I shadowed a vet's surgical practice and found myself on the floor with my head between my knees! Instead I majored in Industrial/Organizational Psychology at Florida State and have used that education for my ongoing career as an insurance underwriter and risk manager. I moved to this area several years ago when my husband – a Fort Edward native – was offered a transfer. Since this brought us closer to family, we left Florida with two dogs, two cats and a parakeet named Pokey. The change of seasons, the small town feel and the ability to visit NYC make upstate New York feel like home. I thought the closest I'd ever come to working with animals would be the time I spent handling loss control issues for one of the zoos a former employer insured. Being licked by a juvenile giraffe was unforgettable! I'm looking forward to working with the For Pet's Sake team as they provide top quality vet care for the pets and their parents of the Glens Falls region.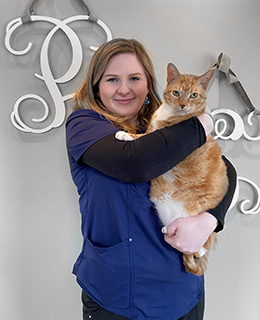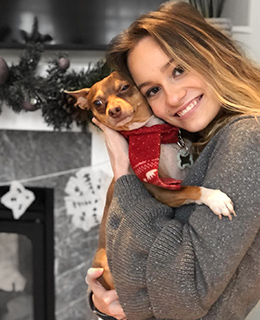 Ella Wolf, Assistant
  I've loved animals for as long as I can remember, which is one of the many reasons why working at FPS is just so amazing!  I'm currently working my way through college and figuring out if I want to be a veterinarian.  Besides school, the rest of my life revolves around my pets! I have 4 perfect rescue dogs, a rat, ferret, chickens, and fish.  They mean everything to me and I cherish every second with them.  I'm sure your beloved pets mean the world to you too, which is why I always try to make every pet that comes through the door as comfortable and happy as possible! My favorite part of my job is getting to see patients that feel much better and get to go home to see their owners.